At The NECA Show
The NECA Show is packed with valuable opportunities; take advantage of our exciting schedule and plan now!
Show Overview
The NECA Show is the premier expo for the electrical, power, and cabling industry. At the NECA Show, electrical professionals can view the latest innovations in tools, system controls, software and vehicles plus learn about the business services they rely on.
The NECA Show, the top electrical show, is a once-a-year opportunity for large and small electrical contractors to meet the manufacturers, utilities, inventors, distributors, consultants and engineers that make their companies work.
You can count on NECA to connect you with the products and services you need to make your company work. Hundreds of vendors will come together at the 2009 NECA Show to put together an amazing exposition just for you!
Discover Innovation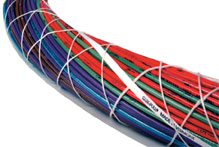 The New and Featured Product Room is a showcase offering a select sampling of the latest and greatest in electrical product innovations which will be on display at the 2009 NECA Show. Make plans to stop in and see what's new!
Travel Contacts
CMR for Hotel Arrangements 1-800-368-6322

NECA Show exhibitors will present hands-on technical workshops daily on the Show floor during NECA 2009 Seattle.