Tours
Independent Victoria, BC Day Trip Tour
Friday, September 11, 2009

From Seattle, you will board the Victoria Clipper and sail to the downtown harbor of Victoria. Spend the day exploring British Columbia's most charming city. There is much to see and do in Victoria: the Parliament Building, the Royal BC Museum, Afternoon Tea at the elegant Fairmont Empress Hotel, Crystal Gardens, and, of course, the famous Butchart Gardens. You will return to Seattle's sparkling city lights in the evening.
Hours
7:30am–9:45pm
Rate
Best Available Rate at Time of Purchase
Notes
This is a self-guided tour.
The above price is a retail rate. In order to keep the per person price affordable and to provide guests with the best possible rate, guests will purchase tickets directly from the Victoria Clipper. Guests may purchase tickets by calling 1.800.888.2535 or online at clippervacations.com. When purchasing, provide the Victoria Clipper with a group code #8120167 to receive the best available rate.
Guests are responsible for their own transportation to/from the Clipper. The Seattle, Clipper Dock is a 5–7 minute cab ride from downtown Seattle hotels. Guests are required to arrive at the Victoria Clipper Dock one hour prior to departure for check in.
Seattle Glassblowing Tour
Friday, September 11, 2009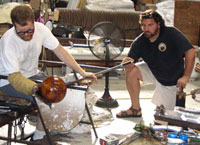 Get fired up for a glassblowing tour in the city that has become internationally recognized as the center for glass art, second only to Venice, Italy. First guests will travel to Glasshouse Studio in Pioneer Square, home to many glass and art galleries in Seattle. Here guests will enjoy a private glassblowing exhibition before heading to Blowing Sands Glass Studio in Ballard. At Blowing Sands, guests will see another live glassblowing demonstration. After visiting Blowing Sands Glass Studio, guests will travel to Seattle Glassblowing Studio. While at Seattle Glassblowing Studio, guests may tour the amazing gallery and may even catch a glimpse of live glassblowing. This tour captures the spirit of glassblowing, and hopes to teach and draw appreciation for this unique art form.
Hours
10:00am–1:00pm
Price
$43.00 Per Guest
Aviation Tour
Saturday, September 12, 2009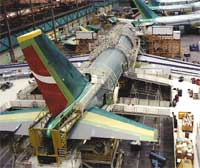 Soar into the new world of commercial aviation by exploring Boeing's newest, high-tech facility, the Future of Flight Aviation Center. This 73,000-square-foot center in Everett is a unique, interpretive facility designed to showcase the phenomenon of commercial jet aviation and production. Featuring hands-on exhibits, videos, graphics, and interactive stations, guests will have the opportunity to digitally design their own jet, try out the next generation of in-flight entertainment systems, touch the high-tech "skin" of the new Boeing 787, and learn how technology and aviation can serve to connect people and cultures across the globe.
Following the Future of Flight Aviation Center, you will be transferred to the Boeing Assembly Plant. In 1966, The Boeing Company announced that it would build the 747, a jetliner capable of carrying nearly twice as many passengers as previous models. To build the giant jet, Boeing had to construct a facility large enough to handle the world's largest commercial jetliner. The main assembly building, which the Guinness Book of World Records acknowledges as the largest building in the world by volume, is as large as 75 NFL football fields.
Hours
1:00pm–5:30pm
Price
$50.00 Per Guest
Saturday, September 12, 2009
Northwest Experience and Tillicum Village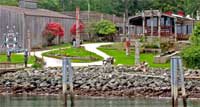 The tour begins with a drive through downtown en route to historic Pioneer Square, Seattle's oldest residential area. From Pioneer Square enjoy a driving tour past the heart of Seattle's Asian community, the International District. Don't miss Elliott Bay's maritime activity as the coach drives alongside Seattle's bustling waterfront. Next, guests will drive by Seattle's most recognizable landmark; the Space Needle. The final stop on this tour is Pike Place Market. Known for its exciting sights, sounds and aromas, Pike Place Market began on August 17, 1907 and has remained a vital part of Seattle's social and economic fabric for over 100 years.
After an exciting Seattle City tour, guests will travel to Tillicum Village. You will enjoy a scenic 60-minute cruise to Blake Island, which includes a narrated tour of Seattle's Elliott Bay. Upon arrival, you will be welcomed to Tillicum Village with an appetizer of freshly steamed clams and hot clam nectar. Lunch takes place in an authentic cedar longhouse featuring artifacts and woodcarving displays. Following a delicious salmon lunch, you will enjoy an exciting program of Native American songs and dances from various Northwest tribes. The perfect ending to this memorable day is the magnificent view of the Seattle skyline from the water on your return cruise.
Hours
9:00am–4:00pm
Price
$132.00 Per Guest
Monday, September 14, 2009
Eastside Highlights Tour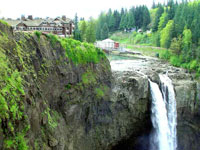 Just 25 miles east of Seattle, you will discover one of Washington's most popular scenic attractions, Snoqualmie Falls. Here, the Snoqualmie River cascades 270 feet through a spectacular rock gorge into a 65 foot deep pool. As you arrive at Snoqualmie Falls, you will be given time to tour the gift shop and take pictures from the observation deck.
After viewing Snoqualmie Falls, guests will travel to Woodinville to visit two popular wineries. On the drive to Woodinville, guests will be given boxed lunches to enjoy on the motorcoach. Located on 87 acres of arboretum-like grounds, Chateau Ste. Michelle is Washington's oldest winery, taking its place among the classic wineries of the world. Enjoy a tour that allows a romantic yet technologically accurate view of the art and science of wine-making, followed by wine tasting. Next, guests will travel to nearby Januik Winery. The rhythm and geometries of this brand-new winery's agricultural landscape, along with the craft, technology and patterns of wine production they use, shape the architecture and landscape of the property.
Hours
11:45am–5:15pm
Price
$91.00 Per Guest
Post-Convention Tour: The Great Northwest
Victoria and Vancouver September 16–19, 2009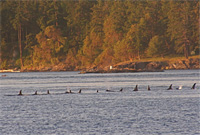 Depart on the Victoria Clipper catamaran for a scenic cruise through Puget Sound and the Straight of San Juan to Victoria, the capital of British Columbia. Continental breakfast is included on the Clipper. On arrival in Victoria, we walk a block from the dock to our hotel, the Inn at Laurel Harbor, which overlooks the busy harbor.
Days
Wednesday — Friday
Price
$889 per person double occupancy; More Information.
Prince Of Whales Whale Watching Tour
NECA is no longer offering the whale watching tour through clipper as previously announced. If you are interested in participating in a whale watching tour, contact The Prince of Whales, toll free at 1-888-383-4884. Guests may also purchase tickets by calling 1.800.888.2535 or online at clippervacations.com.
Guests will need to reference the original Group Booking Code, #8120167, to purchase tickets.