Lifestyle Program
The Lifestyle Program at the 2009 NECA Convention presents a unique opportunity to become a coffee expert! This will be your one chance to participate in the Lifestyle Program.
Saturday, September 14, 2009
10:00am–11:30am
WSCTC
Taste of the Pacific Northwest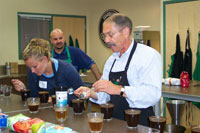 Can you taste coffee? Well, probably not like the experts!
At this morning event on September 14, a Starbucks Education Specialist will teach you all about that ubiquitous icon of Seattle, the Starbucks Company, as well the proper way to "taste" coffee.
And that's not all! Situated on the same latitude as the French wine country, Washington State has a growing wine industry that is winning prestigious awards throughout the world. During this program, you can sample a variety of the Northwest's finest at a wine tasting station hosted by a local, certified sommelier.
The expertise is provided by the Starbucks Foundation which was launched in 1997 "to create hope, discovery and opportunity" in communities where the company's partners live and work. The Starbucks Foundation supports literacy programs for children and families and, to date, has provided over $11 million to more than 700 youth focused organizations in the United States and Canada.