NECA 2009 Seattle Ends With Magical One-of-a-Kind Performance
Closing Celebration
Tuesday, Sept. 15, 2009
8:00pm
McCaw Hall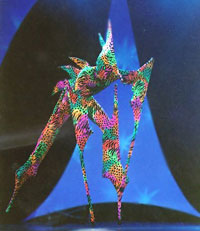 A custom performance by Cirque Dreams is the grand finale for NECA 2009 Seattle. Our Closing Celebration will be held Tuesday, September 15, beginning at 8:00p.m. at McCaw Hall.
This energetic show incorporates creative and original artistry with some of the finest music, costumes, choreography, and special effects ever produced. You'll experience the surreal conjuring of a dream filled with mystery, suspense, comedy and dance.
In 1993, Neil Goldberg's creative philosophy made Cirque Productions the first American company of its kind producing European, theatrical and cirque-style shows for corporate events, theatres and tours. Cirque Productions has produced some of the most original, inventive and theatrical and acrobatic stage shows for audiences worldwide, including the new "Cirque Dreams Jungle Fantasy", most recently the first show of its kind ever to perform on Broadway and now touring the U.S. through 2010. Other "Cirque Dreams" brand shows include "Cirque Dreams Illumination", "Cirque Dreams Coobrila", "Cirque Dreams Pandemonia", and "Cirque Dreams Holidaze".
Neil Goldberg has personally traveled the world bringing back to the productions performers from the Mongolian School of Contortion, Chinese & Polish Acrobatic Associations, the Moscow State College for Circus & Variety Arts and other legendary troupes. Under his tutelage, their talents combine to create musical dream-ventures that highlight mystery, suspense, comedy and dance with some of the most amazing acrobatic presentations ever performed on stage.