General Sessions
Opening General Session
Washington State Convention and Trade Center
Sunday, September 13, 2009
10:15am–11:30am
Howard Behar, General Session speaker, NECA 2009 Seattle
A Caffeine-Free Look At Why People Aren't Assets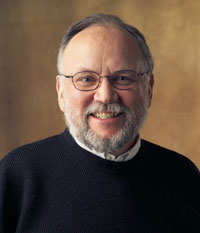 Seattle is known for its "coffee culture," and Starbucks, the world's most famous purveyor of the black beverage, originated at the Pike Place Public Market, the most visited tourist attraction in the city. At our (Opening) General Session (10:15a.m., September 13th), we'll hear from the man who took the company global. But it's not about the coffee.
Howard Behar joined Starbucks in 1989 as vice president of sales and operations and grew the retail business from 28 stores to more than 400 by the time he was named president of Starbucks Coffee International in 1995. Under his leadership, Starbucks opened its first location in Tokyo in 1996 then introduced the Starbucks brand across Asia and the United Kingdom.
During his many years as a senior executive, Behar helped establish the Starbucks philosophy which emphasizes the importance of people over profits. It starts with the idea that if you regard employees and customers as human beings, everything else will take care of itself. If you engage your staff as partners (not assets or labor costs), they will achieve results beyond what is thought possible. And if you think of your customers and communities as "the people you serve" (not sources of revenue), you'll make a deep connection with them, and they'll come back again and again.
After he retired as president of Starbucks North America in January 2003, Behar distilled this philosophy into a book called It's Not About the Coffee. Through it, and his talks to groups such as NECA, he shares inside stories of turning points in the company's history, as it fought to hang on to this culture while growing exponentially. He discusses the importance of knowing who you are, building trust, facing challenges, listening for the truth, taking responsibility, saying yes, and daring to dream.
Day 2 Making Your Local LMCC Work For You: Special Labor Relations General Session
Washington State Convention and Trade Center
Monday, September 14, 2009
10:00am–11:30am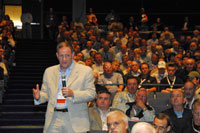 Local Labor Management Cooperation Committee (LMCC) language is in virtually every NECA-IBEW collective bargaining agreement, but is it effective? Local LMCCs are intended to improve communications, to solve problems, to sponsor local programs, to engage in public education, to explore new joint approaches to issues that involve NECA and IBEW members and the community and the electrical construction industry.
This Labor Relations Special Session will demonstrate what can be done through a local LMCC to build your relationship with the IBEW and to create positive marketplace reaction for your chapter and individual businesses.
The Labor Relations Special Session will be Monday, Sept. 14 at 10 a.m. at the Washington State Convention and Trade Center. Make your plans to be there!
Closing General Session
Washington State Convention and Trade Center
Tuesday, September 15, 2009
09:00am–10:15am
Erik Weihenmayer, General Session speaker, NECA 2009 Seattle
World-Class Blind Adventurer Shares Extraordinary Vision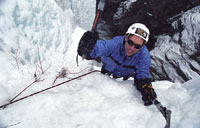 Erik Weihenmayer didn't climb Mount Everest for the view. He became the only blind man to touch the top of the world for the same reason he became one of the youngest people ever to conquer the "Seven Summits" — the highest peaks on each of the seven continents. And that's the same reason he led a team to cross the finish line in the Primal Quest, a grueling 457 miles, multi-sports race through the Sierra Nevadas that forces other competitors to turn back.
Simply stated, Weihenmayer doesn't believe in turning back. Despite losing his vision at 13, he became an accomplished mountain climber, paraglider, and skier by refusing to let his blindness interfere with his passion for an exhilarating and fulfilling life, and he has the awards and trophies to prove it. He's a living — and teaching — example of using adversity to fuel growth and innovation.
He taught that lesson to sight-impaired youths in Tibet after being invited by Braille Without Borders, a school for the blind, to teach its students mountaineering and rock climbing. He delivered this brand of inspiration in his two books Touch the Top of the World and The Adversity Advantage: Turning Everyday Struggles Into Everyday Greatness; in his award winning film, Farther Than the Eye Can See; and through No Barriers, the non-profit organization he co-founded to promote innovative ideas, approaches, and assistive technologies which help people with disabilities live full and active lives.
And now he's taking his message all around the world as he speaks on harnessing the power of adversity, the importance of a "rope team," and the daily struggle to pursue your dreams.