Going Green in the Emerald City
Opening Reception
Saturday, September 12, 2009
7:00pm–9:00pm
Sheraton Seattle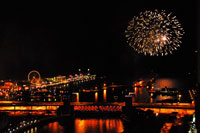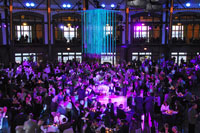 The emphasis on "green" at NECA 2009 Seattle starts at the very beginning — at our Welcome Reception on Saturday, September 12 (from 7p.m. to 9p.m.). For this event, the Sheraton Ballroom will be transformed into a modern Pacific Northwest "Emerald City" metropolitan motif.
Guests will enter into an eco-friendly landscape of leafy greens, tumbled river rocks and verdant mosses all captured in clear glass adding just the right touch of sparkle. In addition to the illuminated, bright green frosted martini bar, this beckoning oasis will feature coffee and wine/brew tasting stations. There will also be a large selection of sumptuous hors d'oeuvres reflecting the cuisines of the Northwest — just the right taste to precede a night on the town.
But, of course, the most inviting feature of our Welcome Reception, as always, will be the guests themselves. This event offers the perfect opportunity to catch up with old friends and acquaintances, make some new ones, and launch some productive networking. And that's just the right beginning for our big annual convention and trade show!
Entertainment will be provided by the Freddy Pink Band, the West Coast's finest R&B rock musicians.